Music Program
Music at Sebastian United Methodist Church  - Check with Church office for current schedules (summer hours vary)
Here at SUMC, we have a vibrant music program that encompasses participants of all ages.  The psalmist calls us to "Make a joyful noise to the Lord" (Psalm 100).  We take this call seriously.  All people are invited to participate regardless of training or musical knowledge.  The only requirement is a desire to praise God through music.
The Adult Choir rehearses on Thursdays at 7:00PM from mid-August thru May.  The group sings an anthem almost every Sunday and prepares special music for Christmas, Easter, and other major celebrations, and participates in our Annual Ecumenical Thanksgiving Service.  During the Christmas season, the ensemble goes caroling at various nursing homes in the area.  The Adult Choir also plays a significant role in our annual Spring Fling talent concert.
The Handbell Choir rehearses on Wednesdays at 7:00PM throughout the year.  We are currently ringing 5 octaves of Schulmerich handbells and 4 octaves of Malmark hand chimes.  The group plays special music in worship, presents a fall concert, and has an active role in our Annual Ecumenical Thanksgiving Service. 
The Handbell Choir also presents concerts at nursing homes and other community events.
Beginning Handbells, the Joyful Ringers rehearse at 3 PM  on Wednesdays
The Brass Ensemble rehearses on Sundays at 1:00PM from September thru May.  During worship, the group participates by presenting anthems and accompanying hymn singing and the Adult Choir.
The Children's Choir rehearses on Tuesdays from 4:30PM-5:30PM from September thru May.  The group presents anthems in worship about every six weeks.  
The Children's Chime Choir rehearses on Mondays from 5:00PM-6:00PM from September thru May.  This is the newest ensemble at SUMC and is currently in the development stages.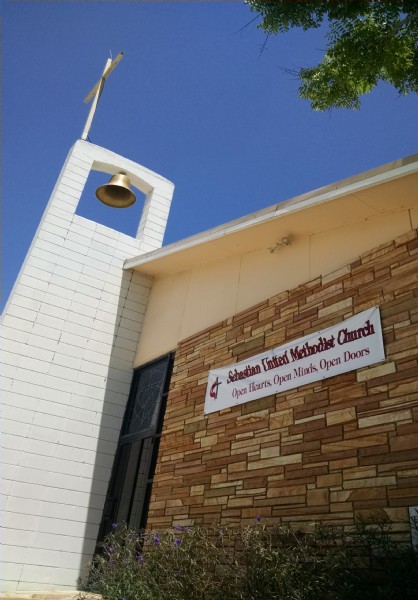 Each summer we host a summer music camp for children that receives participants from all over the community.  The children spend the week learning about God through crafts, games, and a musical.  Each musical offers opportunities for solo singing and acting.  The musical is presented in worship the following Sunday.
We are truly blessed at SUMC with diverse and active musical ensembles that not only enhance our worship experience but also share their gifts and talents with the community.  For more information, questions can be directed to our Music Minister, Megan Mash, MSM at 772-589-5230.