PastorBio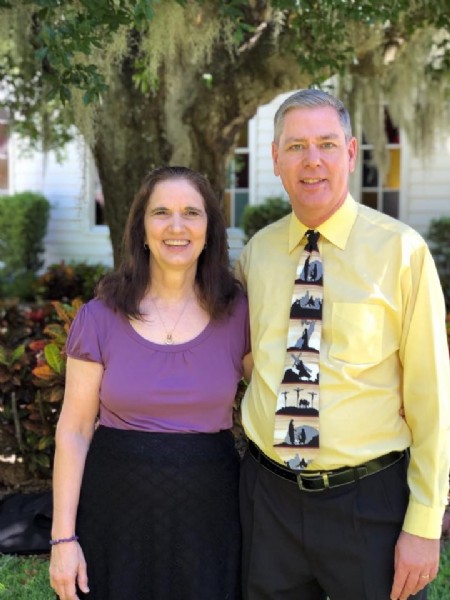 Pastor Gill arrived July 1, 2019 at SUMC from Mims UMC. Let me use this opportunity to share a little about me and our family. Terri and I have been married for 30 years this July. We have three grown children and two wonderful daughters in love: Tim (and wife Stephanie); Ben (and wife Dani); and Joanna. They all live in Central Florida, so you will see them from time to time, I am sure.
Terri and I have a somewhat unique living arrangement. When I served a church in Ormond Beach, we had a housing allowance and purchased a home there. Terri secured a teaching position (she teaches first grade). After nearly nine years in that appointment, I went on the staff of the Florida United Methodist Children's Home for about four years, and our family was blessed to be able to live in our home in Ormond. Then I served two appointments relatively close to Ormond, but too far to commute. I have lived in the parsonages of the churches I have served while Terri continues to live in our home in Ormond. She stays in her teaching position because she has tenure, which she would lose if she were to ever leave that school. She and I have traveled back and forth so we can stay connected as a couple/family, and we will continue to do so at Sebastian. Terri will be as active at Sebastian as is feasible, perhaps coming every other weekend. It's not ideal, but we have been able to make it work!
Now, a little about me. I am a "P.K." (as is Terri), so I grew up in Methodist parsonages up and down the State. I graduated from Florida Southern College in Lakeland with a BA in Music Education (I was planning to teach), but felt called to pursue church music and Christian education, so I went to Scarritt Graduate School in Nashville and earned an MA in Church Music Education. While there, I felt the calling to ordained ministry, so continued my education at Candler School of Theology/Emory University in Atlanta, and earned a Master of Divinity. I have served in ministry since 1985. I Look forward to learning about you as you learn about me.
---
Son – Tim (and wife, Stephanie)
Son – Ben (and wife, Dani)
Daughter - Joanna